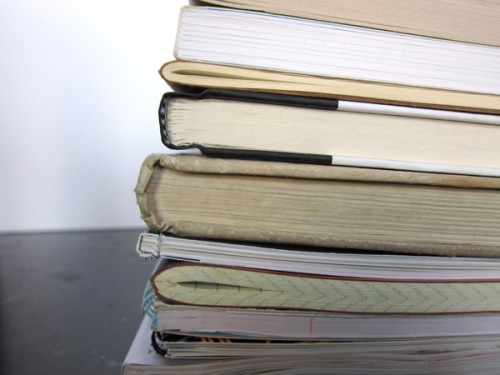 Bookbinding is both an art and everyday necessity. We encounter so many varieties everyday. The way your magazine is bound can be completely different from the notepad you use at work. Here's a (long) list of book binding techniques divided into two groups: commercially available and custom, with a photo or two, information and links to tutorials and other resources.
Commercially Available Techniques
Saddle Stitched/Side Stitched
Spiral, Plastic Comb, Wire-O
Thermal Tape
Perfect
Case
Custom Techniques
Japanese Stab
Saddle Sewn
Side Sewn
Screw Post
Coptic
Long Stitch
Secret Belgian
Commercially Available Techniques
The following are book binding techniques you can get from printers as a standard service. All of these can also be made by hand.
Saddle Stitched/Side Stitched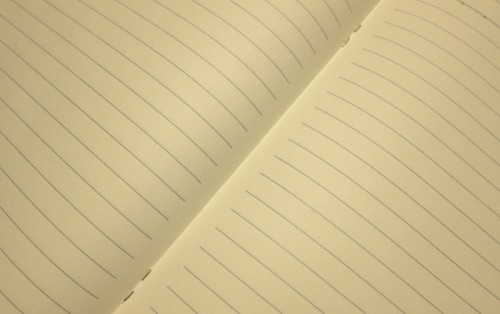 Method: Spreads folded and staples are applied on the spine from the cover to the center spread to hold everything in place.
Common uses: notebooks, programs, office presentations
Pros: Very cheap; staples are the only materials needed;
Cons: May make the product look cheap, depending on the design;
Spiral, Plastic Comb and Wire-O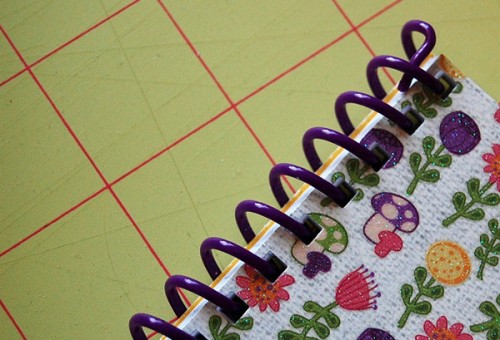 Spiral notebook photo from Flickr user SewPixie.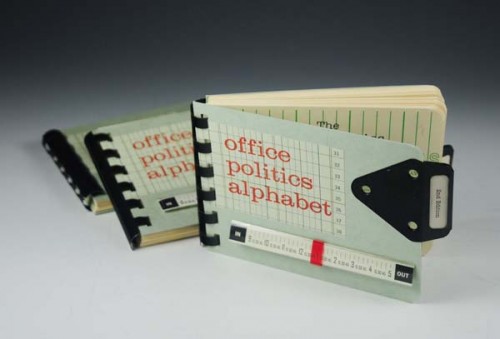 Plastic comb notebooks photo from Flickr user Abecedarian Gallery.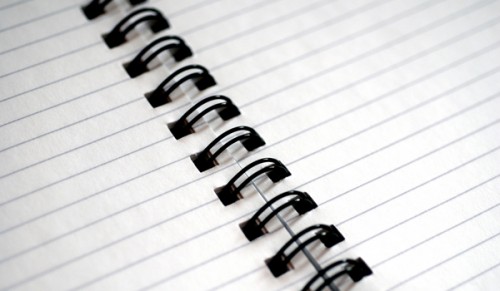 Wire-o binding from Flickr user incurable_hippie.
Method: Punched holes by the spine with a plastic or wire coil or comb looping through all the pages.
Common uses: notebooks, office presentations, planners, sketchbooks
Pros: Ability to lay spreads flat; ability to fold back the book without damaging the pages.
Cons: May make the product look cheap, depending on the design; coils are not recyclable and a hassle to remove;
Resources:  GBC – one of the largest retailers for spiral, plastic comb and wire-o binding supplies
Thermal Tape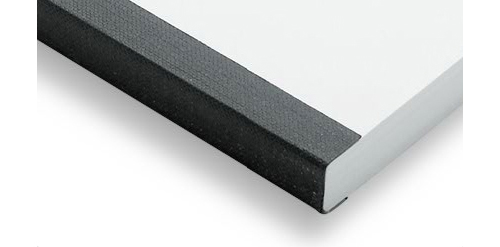 Photo from Mimeo.
Method: Creates a book by placing a strip, with one side adhesive, onto the spine and over the cover. Then the book is inserted spine side into a machine to heat the adhesive and add pressure to seal the edges. 
Common uses: notebooks, notepads, office documents, manuals
Pros: Sturdy spine, very similar to perfect binding.
Cons: Exposed binding – can easily pick at the strip; getting text or graphics on the spine will be a custom job.
Resources: Here's a demo/sale video from Accubind, a popular supplier of thermal tape binding machines. Unibind and velo is also similar. Mimeo also offers this service.
Perfect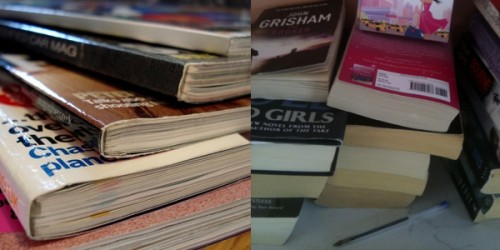 Left photo: from Flickr user bravenewtraveler; Right: from Flickr user dinoboy;
Method: Pages are glued on the spine, which needs to have a rough surface so the glue can stick easily, into a cover that wraps around the back, spine and front.
Common uses: paper back novels, magazines, catalogs
Pros: Allows the spine and pages to be flexible; easily mass produced and easy to DIY;
Cons: Does not allow for hardcover, so more susceptible to wear and tear'
Resources: Science Channel video on a perfect binding machine.
Case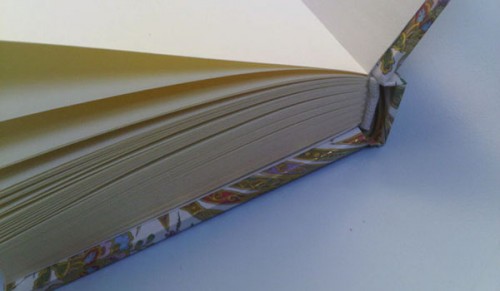 Photo from Flickr user natalee929;
Method: Pages are divided into signatures then sewn together and adhered into a hard casing, traditionally cloth covered cardboard.
Common uses: textbooks, hardcover books, bibles
Pros: Hardcover creates a rigid product and protects the sheets inside better;
Cons: Time consuming to DIY; much more expensive than perfect binding;
Resources: Buy a case bound kit at Hollander's (from $12 to $55); a 3 minute introduction  video from the Kolbus plant; Tutorials from Angela Sutton, Douglas W. Jones at Univeristy of Iowa and Garry Harrison at Indiana University.
Custom Techniques
The following techniques are more of a hand crafted art form. They can be mass produced by a printing company, however, the cost per unit is much higher than the techniques described above. Please note these are not the only custom techniques, there's no limit to how a book can be bound!
Japanese Stab
Method: Binds loose pages using exposed thread that wraps around the spine and on the top and bottom of the book.
Resources: Buy a kit with all the materials needed at Dick Blick (starting at $20.89); A PDF tutorial on this method from Bley Hack (via Vintage Indie); 9-minute video tutorial from CuriousDoodles;
Saddle Sewn
Method: Collated pages are folded in half and sewn in the middle through the cover to hold everything in place.
Resources: Tutorial from eHow; a very blunt tutorial from Lingualinks;
Side Sewn
Method: Loose pages and the cover (wrap or loose) are held together by sewing through all the pages from cover to cover, a certain distance from the spine.
Resources: Tutorial by sepme on Instructables;
Post Binding
Method: Holds in loose pages using screws that go through the cover and all the pages.
Common Uses: Portfolios, photo albums
Pros: Can easily change pages inside;
Cons: Hardware heavy – exposed metal;
Resources: DIY tutorial on Instructables by pupuccachu; Screw post binders at Sam Flax;
Coptic
Method: Using signatures, these binding method has an exposed spine and threading that creates braids along the spine.
Pros: Allows the book to lay almost flat.
Resources: DIY Kit from etsy user WriteOwl; Video tutorial using boards & only two signatures from jaescala; Tutorial from Linda at Torta Gialla with lots of photos;
Long Stitch
Method: Also known as limp binding, signatures are individually bound to the spine, allowing for the creator to make unique patterns on the spine.
Resources: Another great photo heavy tutorial from Ling at Torta Gialla; Video tutorial on assembling the final product by Majhada Crafts;
Secret Belgian
Method: No longer a secret (haha), this binding uses exposed threads, wrapping around the spine, covers and through the signatures inside.
Pro: Because signatures are used rather than flat pages, it allows the book to lay flat;
Resources: DIY Tutorial from Sam;
More Resources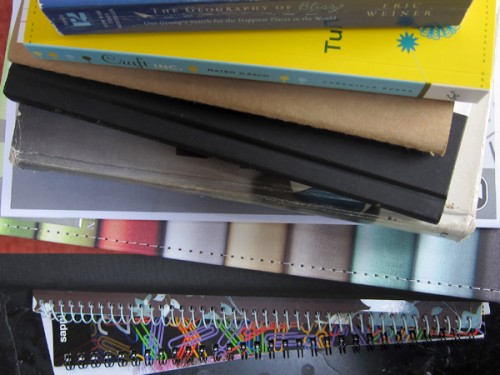 References
Books
Digital Publishing
Blurb – gorgeous photo books of all sizes.
Lulu – self publishing online for all types of content.
Apple iPhoto – photo books straight from the application.
Classes
Feel free to add your resources in the comments below!