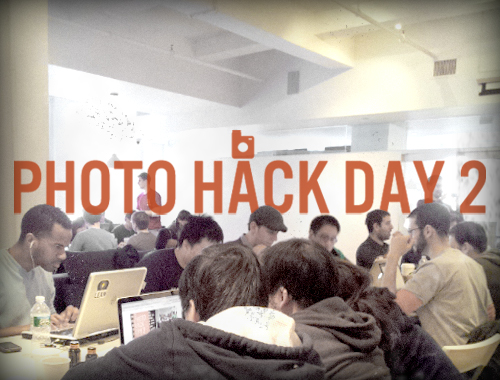 The last weekend of February I participated my first hackathon – Photo Hack Day 2. About two weeks prior, some of my developer colleagues, who are all hackathon veterans, told me about the event. Still slightly confused about what a hackathon is, or what I was expected to accomplish, registration was free, so I signed up and told M, also a developer, who quickly signed up. Little did we know what we were getting ourselves into.
So what exactly is a hackathon? By the sound of it, yes, it's very nerdy. But don't say it like that's a bad thing! Hackathons are events with a set time for typically developers to collaborate, concept and develop projects.
Photo Hack Day 2 is (obviously) a photography themed hackathon, sponsored by Aviary. We had 24 hours to create a hack, app, website, product, whatever, related to the theme, with options to use various sponsors' API. Also, it was a contest, so there were a lot of incentives to create things using certain APIs and platforms.
The days leading up to the event, we exchanged quick emails with various ideas. On the website was a list of various ideas from sponsors. None of them seemed to stick.
The morning of the event finally came. I almost didn't go because of a headache (okay, hangover), but M managed to drag me out of bed and into a taxi to General Assembly, in time for sponsor API demos and free bagels. (Oh yeah… did I mention FREE food at hackathons?!) M's friends and colleagues, C & N, whom I have also worked with in the past, joined us. After API demos were over, we brainstormed.
We contemplated using just one API to go for one sponsor prize. We contemplated doing novelty gag apps. M kept bringing up an idea, 'Sup, a Foursquare based mobile app that is map based where you can see which area is most popular based on stylized dots and where the venue pages would list the most recent photos from users from various social media platforms. C & N saw that as practical and something achievable in 24 hours. Soon lunch was served and I started to dread the conversation… it just sounded like work, as if we were creating an app for a paying client who wanted what was already out there.
Then I came up with the idea of creating an Augmented Reality display.
At first my idea was not warmly welcomed. None of us on the team has developed anything close to AR before. So no one was confident that it could be done in such a short amount of time. So I was blunt, if I'm going to give up an entire weekend to design and develop, with no guarantee of a paycheck, no stakes, no care for winning, let's make it fun, let's do something challenging and new.
Now the ball was rolling… we thought of an even better algorithm for 'hotness', incorporating distance, tweets, time and other social media mentions. We decided to add the ability to check in and to add and edit your own photo, which will increase a venue's score, and in turn promotes photo sharing. We also somehow came to the name 'What Is Up'… from 'Sup to What's Up? to What Is Up.
We split up, C stayed behind and M, N and I seeked quieter work places. M worked on back end, C on iOS, N on API integration and me on UX design and front-end development. It was quite exciting to design for an experience that has yet to become mainstream.
We reconvened for dinner and an insightful fireside chat with Alex Ohanian, Reddit co-founder, Ben Huh of Cheezburger and David Karp of Tumblr, moderated by Aviary's own Avi Muchnick.
The rest of the night was a blur. We ran into some bumps in the road. I think I finally got to bed around 5:30AM… M found C sleeping on the floor in the office around 8AM. When I got back to General Assembly in the morning, I was the only one from my team there. I started to frantically type, with caps lock, to M asking if we were going to meet the deadline! My share of the work was done and I had to be patient. I was able to fill the wait time til the demo by trying to create some buzz online via Twitter and Facebook.
Finally the guys got here, excited to show people the app. C turned on the app on his iPhone and showed me my designs fully implemented in AR. I was ecstatic! Even if we don't win, we just created a really cool app that's fun to play with and that we are more than happy to share with people.
The night before we decided to use an AV adapter for the iPhone to present our app live. C gave me the adapter and I made sure in the morning that they had HDMI input on their projector. Everything was good to go.
Mountains of pizza boxes came in and demos was off to a start. It was so entertaining and inspiring to see so many demos. Many of them were hilarious and some even touching.
Here are some of my favorites:
Soon the mobile demos began. We were around #49 out of 58 hacks. The guys got up to demo, while I sat in the audience to record and tweet.
Then, bad news… we found out that HDMI was no longer working for some reason. How were we going to show the audience what was going on our screen? Luckily, the sleep deprived C had his iPad. The screen was at least large enough for the judges to see. They also had a webcam to projector set up on a table for apps, but we needed to be able to move our device around to demonstrate AR. C worked the iPad, while N followed him with the webcam and M presented.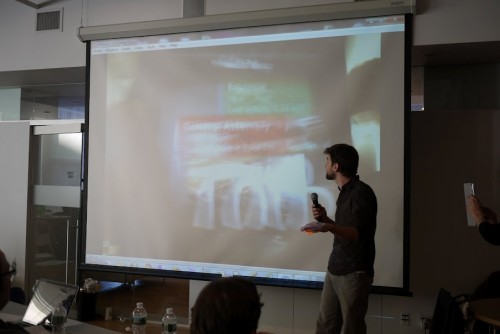 Above: M presenting with C's iPad on the screen. Photo from Mason Du
They had 2 minutes. And they did a wonderful job! Watch my recording here (sorry in advance for the poor quality…)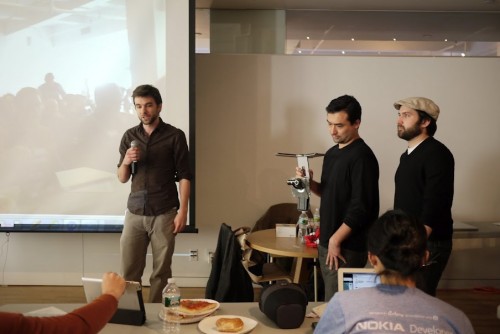 Above: from left to right, M, N & C presenting. Photo from Mason Du
There were a few demos to go. I tweeted about our demo, hoping for some feedback from other audience members. We were unsure of how people would respond. We didn't hear much until the judges were away and the audience began to vote for people's choice. A man sitting behind us tapped M's shoulder to ask what the name of our app was. We weren't expecting any prizes since we didn't focus on one API or generate a room full of laughter and applause. But when that gentleman asked us for our app name, we were really thrilled to know that someone was interested!
Sponsor prizes started shortly after. There were a lot of surprise winners, and some that took many awards home. Including 1st place, Synviary, which also won People's Choice and an Aviary prize. Soon 3rd place was announced and the team members of Rotobooth went up. 2nd placed was announced and M & I jumped up. We glanced at each other… we heard that correctly, right? What Is Up? Second place? In retrospect, I am a little embarrassed of how fast I got up to the front. I was way too excited!
Having created an AR app was exciting enough. Winning 2nd place and a cash prize made us even prouder of the work we accomplished in such a short amount of time.
It's been a little over a week since What Is Up was announced second place. We've had a bit of press since then and will be presenting at New York Times soon. We've also decided to further develop the app and will be releasing it in the App Store this month. Visit the website and sign up to be notified! Let us know what you think.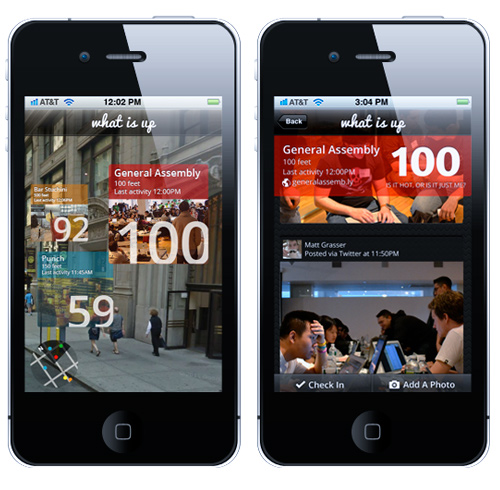 Above: Some of my designs for the app.
A special thank you to Aviary, sponsors of Photo Hack Day and the judges, Jason Black of Nokia, Jason Morrow of Betaworks, Jamal Fanaian of Flickr, and Jim Estrin of The Lens Blog/The New York Times!!!
This was how my first hackathon went. I believe this may be the start of an addiction habit.